About Us
Established since 1993, the company was originally registered as HiTAKE Enterprise; however, after many transforming and improvement, HiTAKE has been changed into a Technology Corporation.
The company started out by designing automatic control system and gradually expanding to digital electricity voltage, current, digital meter, and timer design production. Step by step, we extend our area of specialty to three-phrase controller, UPS (EPS), AVR voltage stabilizer, etc. design and production.
Starting in 1999, HiTAKE began our search development of General Inverter, and its design and production. As of Fall 2001, HiTAKE is transformed to HiTAKE TECHNOLOGY CORPORATION . In order to offer our customers a better and more convenient product usage, HiTAKE is continuously developing and inventing high efficiency and multi-functioning products.
Through different exhibitions, our products have been introduced to the market, and at the same time, we have received customers' trust and positive feedback. Gradually, we are moving to making more multifunction inverters and inverter-related products. Simultaneously, HiTAKE is preparing to offer a more personalized product to satisfy the needs of our customers.
Our Operating Direction
Professional Inverter Producer
VFC Series of Inverters Production
Inverter-related Equipment Production
Digital System Transferring Equipment Production
Other Digital Meter Instrument
Our Organization Structure
Management Consultant Department
The Management Consultant Department mainly focuses on major decision and policy making. The department is assembled by Chairman, General Manager, Assistant General Manager, and Managers of different departments.
Technical Support Department
Our Technical Support Department includes: Research Development; Technical Repair
Production Department
Our Production Department includes: Prodution One (Base Board, Materials); Production Two (Testing, Materials); Production Three (Assemble, Materials)
Quality Control Department
Quality Control Department includes: Materials Quality Control Testing; PCB Testing; QC Testing; Assembly Testing
Management Department
Management Department includes: Managing; Purchasing; Human Resource; Account Receivable/Payable; Inventory; Administration
Sales Department
Sales Department takes charge of coordination in market developing and customer-relation.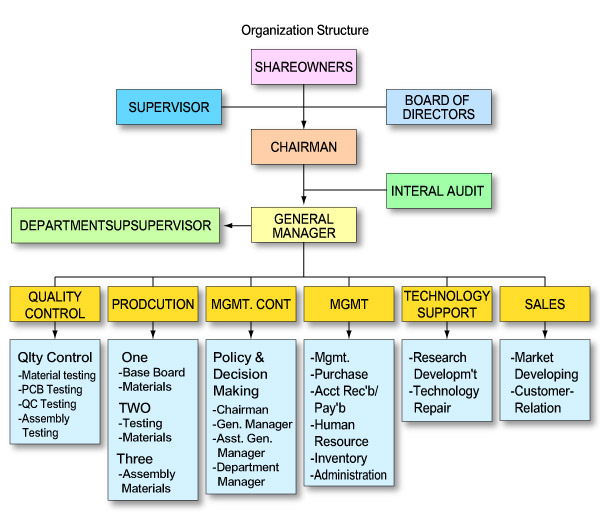 Our Sales Distributors
The head office is located in Taipei County with distributors in northern, southern, and central Taiwan. Currently, we are in preparation for branches in Mainland China. Through dealers, our products distribute all over the world and gradually increasing.
Our Achievement
Through our continuously development of new products, and the high efficiency and cooperation of our staff, we are devoted on producing inverters and inverter-related products. In the product related market, we are standing in an undeniable status and gradually expanding, especially in the elevator market. In order to supply convenience of using to our customers, we are developing better and better improved invention. Our vision is to improve the quality of life of all those we encounter by offering high quality inverters and other related products, and knowledgeable service. We are striking for customer satisfaction.